Installing QuickLinks
Note: for those having trouble with the installation from the web, see Manual Install below
For you current users of QuickLinks with older versions, the installation mechanism has changed from using a zipped file to using a web installer. This may be painful when installing the first time with this mechanism. But future updates will be very simple. You will need to run it from windows Internet Explorer as other web browsers do not support running ClickOnce program installations. So if you are reading this on a different browser, please copy the link and open it in Internet Explorer.
New users, skip down to step # 4.
1. If you have QuickLinks installed on your computer and QuickLinks version was installed prior to July 2011 then you will need to uninstall QuickLinks. To determine what version of QuickLinks that you have installed, double-click on the QuickLinks icon

in the notification bar and then in the QuickLinks window look in the title bar of its window

. If there is no version in the title bar, then you definitely need to uninstall QuickLinks because your version is older. If you have QuickLinks Helper apps installed, you will also need to uninstall them and install the newer versions.
2. First you will need to make sure that QuickLinks is not running. To close it, right-click on the QuickLinks icon in the notification bar and in the pop-up menu click on Exit.

Now to uninstalling QuickLinks.
3. Open the windows Control Panel and if you are running windows XP then open Add/Remove Programs or if you are running Vista or Win7 then open Programs and Features. Now find QuickLinks and uninstall it from your computer. If you have QuickLink Helper Apps installed, then locate them and uninstall them. They are named StartQLwithA (where the last letter represents the link letter A through F).
Now let's Install QuickLinks
4. Click on this link (Install QuickLinks) to open the web installer in another tab (make sure you are running Internet Explorer). Once in that tab you will see the button Install QL (it's the top button in that page), just click on it.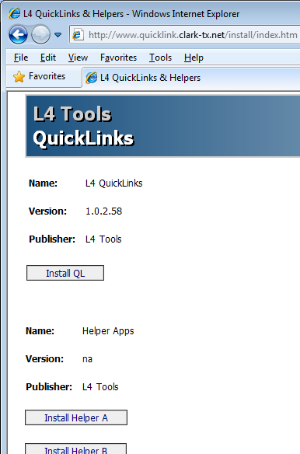 a. You will briefly see the small window below. (on your system it may take several seconds before you see this)

b. Next you will see the following window. When you see it, click on the Install button.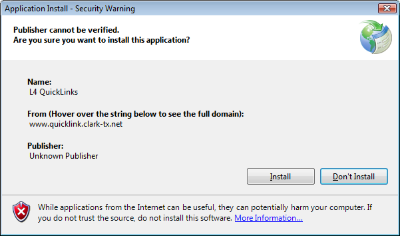 c. Then you will see this window as the installer downloads the files: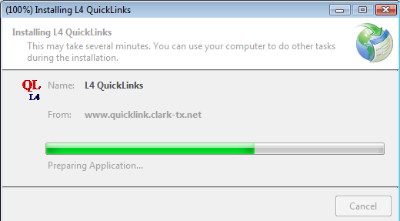 d. And once that the installation is done you will see this window, click the OK button:

e. Now if you want the Helper Apps installed, repeat steps 4 through 4d for each Helper App.

f. Now the software installation is complete. But you will need to follow a few more steps to ensure that QuickLinks works properly with Logos 4.
Adding QuickLinks to the Logos 4 shortcut bar
5. QuickLinks needs Logos 4 running and stable before it is started. So the best way to ensure this is to add QuickLinks shortcut to the Logos 4 shortcut bar.
a. Open Logos 4 and wait for it to finish all its loading.
6. If you will be using Helper Apps, then you will not need a shortcut for QuickLinks since the Helper Apps automatically starts QuickLinks. You will be dragging QuickLinks or Helper Apps from the start menu to the Logos 4 shortcut bar.
a. Click on the windows Start button.

b. Now navigate to Programs -> L4 Tools -> QuickLinks -> L4 QuickLinks (or the Helper Apps)

c. With your mouse click and drag the L4 QuickLinks (or the Helper Apps, one at a time) shortcut to the Logos 4 shortcut bar and drop it there.
[you will not need to repeat adding these shortcuts in your other computers]
7. If you have Logos 4 installed on other computers you will need to repeat the above steps (steps 1 through 4) on each of your other computers.